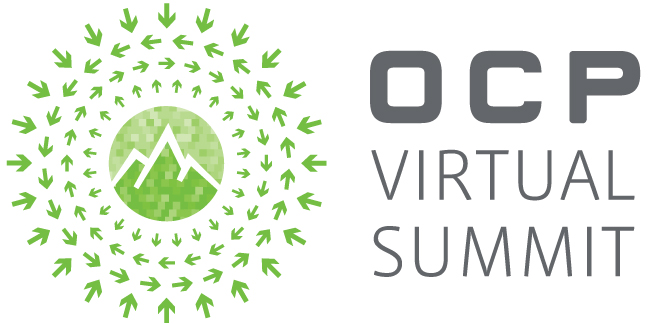 The OCP Virtual Summit and Future Technologies Symposium, will be held May 12-15, 2020. We have been working fervently to prepare for this event and we are pleased to provide you with some concrete information, so you can continue planning.
First of all, we have selected Intrado as our platform of choice, and have already begun work on building out the experience, creating timelines, and gathering requirements. Intrado is an innovative, cloud-based technology that offers a full suite of tools and resources. Our Virtual Summit will be a 3D environment that will be best experienced on a laptop or desktop computer, however a simplified mobile responsive version will also be available for attendees. No additional hardware, software or plugins are required.
The following will provide a brief snapshot of the components of the event:
The OCP Virtual Summit will cover three full days, Tuesday May 12 – Thursday May 14, with an additional full day dedicated to the Future Technologies Symposium on Friday May 15.

If you had a Keynote, Expo Hall Track, Executive Talk or an Engineering Workshop session scheduled for the live event, you will have a spot in our new schedule. If there are any changes or you cannot participate for any reason, please contact kate@opencompute.org. We will provide you the requirements for these materials, including preferred file format, length, file size, etc. The majority of these sessions will be pre-recorded, but we would like all speakers to make themselves available during the broadcast of their session for a live Q&A session at the conclusion of their talk.
Registration will be free for ALL attendees. While we cannot accurately predict at this time the expected attendance, we do conservatively believe that we will attract a more global, and much larger audience than the in-person event, which at the time of the cancellation was forecasted to be between 3,500 and 4,000 attendees.

Sponsor booths will be available not only during the Virtual Summit, but until the start of the next Global Summit, scheduled for March 4 – 5, 2021 in San Jose, CA.

For more detailed information regarding Virtual Summit sponsors, please click here.
We are excited to leverage on the hard work that our Members and Community leaders have put into this event and continue to carry forward our mission.
For questions about the OCP Virtual Summit, plesae visit the Summit page for updates or reach out to the appropriate person below:
Engineering Workshop Sessions
Archna Haylock
archna@opencompute.org
Sponsors
(Booths, Executive Tracks, Expo Hall Talks)
Jacki Krawiecki
jacki@fntech.com
Keynotes
Bill Carter
bill@opencompute.org
OCP Symposium
Kate Hendle
kate@opencompute.org
OCP Experience Center
Rajeev Sharma
rajeev@opencompute.org
Media/Press Releases/
Announcements to OCP Community
Dirk Van Slyke
dirkv@opencompute.org
Registration or General Event Questions
Kali Burdette
kali@opencompute.org