OCP Educational Webinar Program
Next Webinar Date:
Educational Webinar Program
Overview
OCP's educational webinar program is designed to help sponsors establish themselves as marketplace thought leaders. Webinar topics are selected based upon current market trends and are a collaborative effort between an established industry analyst, the OCP Market Intelligence function, and sponsors. An analyst will lead each webinar, including providing vendor-neutral market analysis, which lends credibility and provides draw; sponsor content review to ensure your message addresses market needs and consistency across all webinar content; and live Q&A to encourage attendance to the end of the event.
OCP provides the webinar platform and promotion needed to attract a targeted live audience, webinar broadcast, and webinar content hosting for 90 days while continuing to drive attendance on-demand. After 90 days content files are provided to sponsors including distribution rights so you can continue to engage prospects and generate leads. OCP will provide sponsors with reports including leads with live and on-demand attendees' GDPR and CCPA compliant contact information.
Projected Results
Typically, we attract over 400 registrants per webinar, with 1/3rd attending live and 1/3rd listening on-demand. The sponsors can provide direction on target audience, including company market segment and participant interests. We guarantee 100 leads. Webinars are 60 minutes in length, done live including 10-15 minutes of live audience Q&A. Webinars are generally multi-sponsor, with a maximum of three sponsors. Fees per sponsor for a multi-sponsor webinar are $10,000 with the option for single sponsor webinars at $20,000.
Educational Webinars
Target attendees by vertical and interest
Tap into cloud provider community
Participants are active in the community
Engagement
Attendees are Interested and Engaged Target webinar participants drawn from the OCP's data base are active within its community and engaged in meeting the market and shaping the future. Employees from Government and Enterprise represent near 77% of the OCP database while Cloud, Telecom Service and Colocation Providers account for 10%, 2% and 1% respectively. OCP maintains over 50 mailing lists that will be tapped to generate webinar attendees targeted by interests. The interest profile of subscribers is shown below. Their interests vary from data center facilities to IT infrastructure [server, network, storage] and also include important emerging topics such as sustainability, cooling, edge computing and AI, vertical specific interests such as telecom, and security.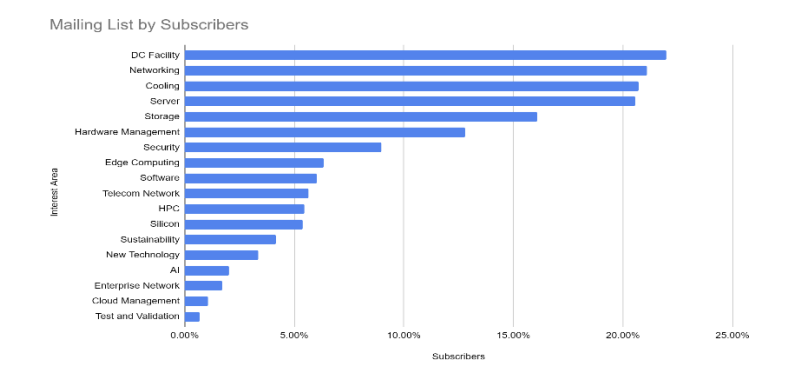 Topics Available for Sponsorship
The webinar topics have been carefully selected by the team and represent the most important industry trends to watch. For more information about the topics, please consult the calendar below. Feel free to listen to the latest webinars on-demand. Custom topics are also possible with the analyst of your choice.
If you need further information and are interested to discuss sponsoring an OCP Educational Webinar Program, please contact Cliff Grossner via cliff.grossner@opencompute.org.
| Topic | Title | Brief Abstract | Analyst |
| --- | --- | --- | --- |
| 5G Network Energy Savings | Mastering Energy Savings in a 5G Network | The goal of this webinar is to provide guidance on existing and new energy saving solutions and features in development to help make mobile networks sustainable. Energy savings approaches will be discussed for the latest 5G massive MIMO solutions with sleep mode functions, achieving spectral efficiency, advantages of virtualization, AI solutions for power saving, and others. | Stephane Teral, Light Counting |
| Accelerated Computing | Accelerated Computing Architectures for AI | This webinar will provide a perspective on the rollout of accelerated computational infrastructure in the data center, the different accelerated compute architectures and how they will be tuned for specific workloads, and a perspective on workloads deployed on-premises or in the public cloud. | Baron Fung, Dell'Oro Group |
| AI Networks | Revolutionizing Networking for AI workloads | This webinar will explore different network fabric options and network design approaches to meet these new AI driven requirements and discuss the size of the potential market opportunity for AI-tuned DC networks. | Sameh Boujelbene, Dell'Oro Group |
| Chiplets for Specialized Silicon | The Emerging Chiplet Economy | This webinar will cover the top trends driving the need for Chiplets, relevant silicon and Chiplet roadmaps, latest support tools for the emerging Chiplet Economy, and present example SiP using Chiplets for modern workloads. | Tom Hackenberg, Yole Group |
| Co-packaged optics (CPO) | The path to high volume Co-Packaged Optics: why, how, and when? | This webinar will outline key requirements for CPOs to achieve mass deployment, the roadmap of major Cloud SPs and timeline of volume adoption of CPOs. | Sameh Boujelbene, Dell'Oro Group |
| Coherent Optics for Interconnects | How Coherent Optics Could Meet AI Driven Interconnect Requirements | This webinar will explore, what is next for coherent technology, new use cases for coherent optics inside a data center, and importance of standards and open systems to drive the future of coherent pluggable optics between and within data centers. | Jimmy Yu, Dell'Oro Group |
| Data Center Thermal Management, Sustainability | Thermal Management for a More Sustainable Data Center | This webinar will help educate the data center ecosystem on the technology requirements, regulatory environment, and potential benefits in sustainable data center thermal management. | Lucas Beran, Dell'Oro Group |
| DC Power and Sustainability | The Power of Data Center Sustainability | This webinar will help educate the data center ecosystem on the technology requirements, regulatory environment, and potential benefits in the power of data center sustainability. | Lucas Beran, Dell'Oro Group |
| Deploying RIC for Energy Savings, QoS Optimization and Traffic Steering | Winning RIC strategies to deliver better QoS with reduced energy consumption. | This webinar will explore strategies for deploying OpenRAN and RIC, what are leading RIC use cases, what types of open networking technologies will it likely leverage, hard problems that need to be solved to deploy OpenRAN, RIC and eventually SMO, and current solutions and roadmaps for OpenRAN and RIC. | Stephane Teral, Light Counting |
| High-Speed DC Networks: The 800 G Crossroads | The Path to 800G and Beyond | This webinar will outline key challenges in moving to 800 G and beyond, the 800 G options being explored by vendors and Cloud SPs, and shed light on current successful 800 G prototypes and deployments. | Sameh Boujelbene, Dell'Oro Group |
| OCP Ready Facilities | Are Data Center Facilities Ready for Edge and AI Workloads | This session will cover how workloads are demanding denser compute environments and how data center colocation services can support the unique IT equipment often required to run these workloads. Best practices, including the OCP Ready™ checklist, for assessing colocation data centers will be discussed including their support services and technical environments to support the demanding IT equipment that runs these workloads. | Alan Howard, InformaTech |
| Open RAN Deployments | Common mistakes and lessons learned when deploying Open RAN/vRAN | This webinar will explore what the leading open RAN/vRAN CSPs did to successfully rollout their network despites many challenges that led to making mistakes and correcting them. The objective of this webinar is to analyze and share the common mistakes found in current open RAN/vRAN deployments and learn from them as well as from the corrective solutions. | Stephane Teral, Light Counting |
| Open RAN System Integration | Succeeding with Open RAN/vRAN System Integration | This webinar will explore what the open RAN/vRAN architecture is and what's required for a successful implementation, what the leading use cases are, what types of networking technologies and IT practises it leverages, and ultimately begin translating that to the new requirements on end-to-end mobile networks and the hard problems that need to be solved from design to rollout and service provisioning. | Stephane Teral, Light Counting |
| RAN architecture (including private 5G) | A Pragmatic Approach to OpenRAN | This webinar will cover how to navigate and benefit from the rapid evolution of the RAN market, how should CSPs or system integrators decide whether to stick with incumbents or bring in new multi-vendor stacks, what are the challenges and pitfalls they need to be aware of, what are the key elements needed for enterprises to benefit from private 5G, what's the appropriate enterprise architecture, and what do enterprises need to understand before embracing private 5G. | Roy Chua, AvidThink |
| Role of SmartNICs and DPUs in Next-Gen Telco Infrastructure | What you need to know about SmartNICs and DPUs in next-gen telco infrastructure | This webinar will address the knowledge gap by covering new demands of today's and tomorrow's telco workloads, why domain-specific approaches are needed, how SmartNICs/IPUs/DPUs address the problem and what performance gains can be expected, what telcos need to know about bringing SmartNICs/IPUs/DPUs into their environment, and best practices and considerations in managing hybrid hardware platforms including SmartNICs. | Roy Chua, AvidThink |