Open Accelerator Infrastructure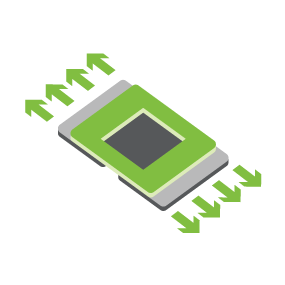 Project Leads

Ahmed AbouAlfotouh, Song Kok Hang
The Open Accelerator Infrastructure (OAI) Sub-Project is under the direction of the OCP Server Project Group.
Scope
The scope of this OAI subgroup is to define below 9 schedules for physical modules include logical aspects such as electrical, mechanical, thermal, management, hardware security, physical serviceability, etc. to produce solutions compatible with existing/traditional operation systems and frameworks to run heterogeneous accelerator applications.
○ Open Accelerator Infrastructure (OAI)
○ OCP Accelerator Module (OAI-OAM)
○ OAI Universal Baseboard (OAI-UBB)
○ OAI Host Interface (OAI-HIB)
○ OAI Power Distribution (OAI-PDB)
○ OAI Expansion Beyond UBB (OAI-Expansion)
○ OAI Security, Control, and Management (OAI-SCM)
○ OAI-Tray
○ OAI Chassis (This chapter will address air-cooled and liquid-cooled aspects as well.)
Regular Project Calls
This subproject meets weekly by invitation to those who have signed a JDA. Please contact the subproject leads for more information. There is a separate mailing list for those organizations who have signed the JDA.
Call Calendar
These meeting are recorded via audio and video. By participating you consent that these recordings may be made publicly available. Any presentation materials, proposals and meeting minutes are published on th respective project's wiki page and are open to the public in accordance to OCP's Bylaws and IP Policy. This can be found at http://opencompute.org/about/ocp-policies/. If you have any questions please contact OCP.
OCP Server Project Calendar
The calendar displayed here is updated nightly from the project's Groups.io Calendar