Want to stay informed of upcoming events? Click here to join the OCP Events Mailing list!
Want to host an event with OCP? Click here to learn more!

OpenUK, State of Open
February 7 – 8, London
John Laban will be speaking about Data Centre Sustainability and Decarbonization at the OpenUK State of Open Conference 2023.
Lesya Dymyd will present a keynote: Scaling up Future Technologies in a Global Open Hardware Ecosystem
---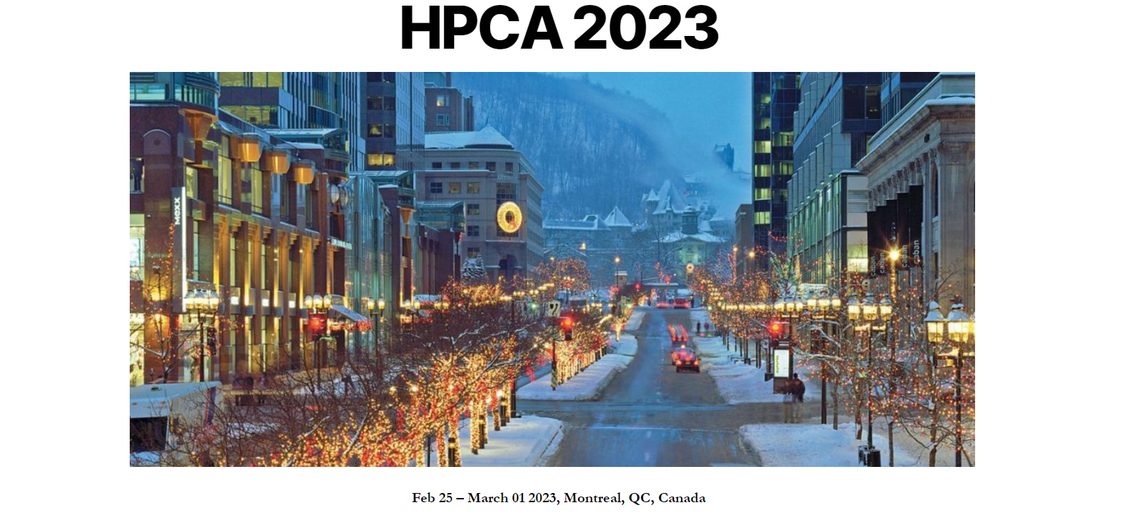 HiPChips Conference
February 26, Montreal
---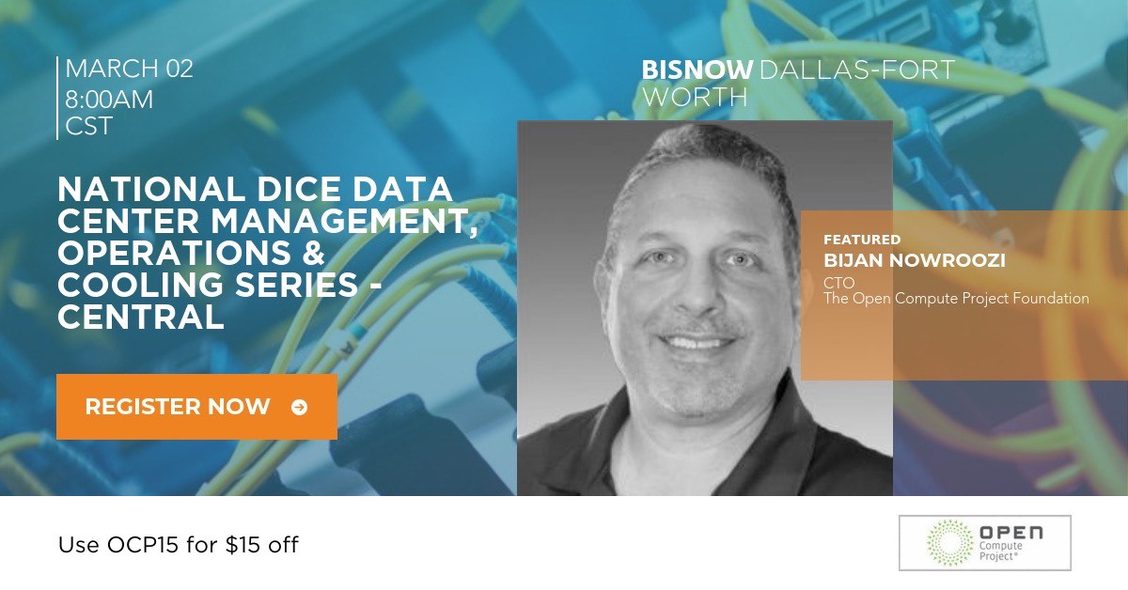 DICE Data Center Operations Management, Operations & Cooling
March 2, Dallas, TX
How are data center leaders adjusting their IT compute, power, and pipelines to increasingly complex supply chains and logistics while servicing increasingly demanding customers. What are they prioritizing and how are they planning for the next stage of growth?
OCP's Bijan Nowroozi will be on the opening panel at the DICE Ops & Cooling event, Reacting To A Constantly Changing Data Center Compute Landscape and Planning For The Next Stage of Growth
Contact the OCP events team if you are interested in participating as a speaker or sponsor.
Use discount code 'OCP15' to get $15 off the ticket price.
---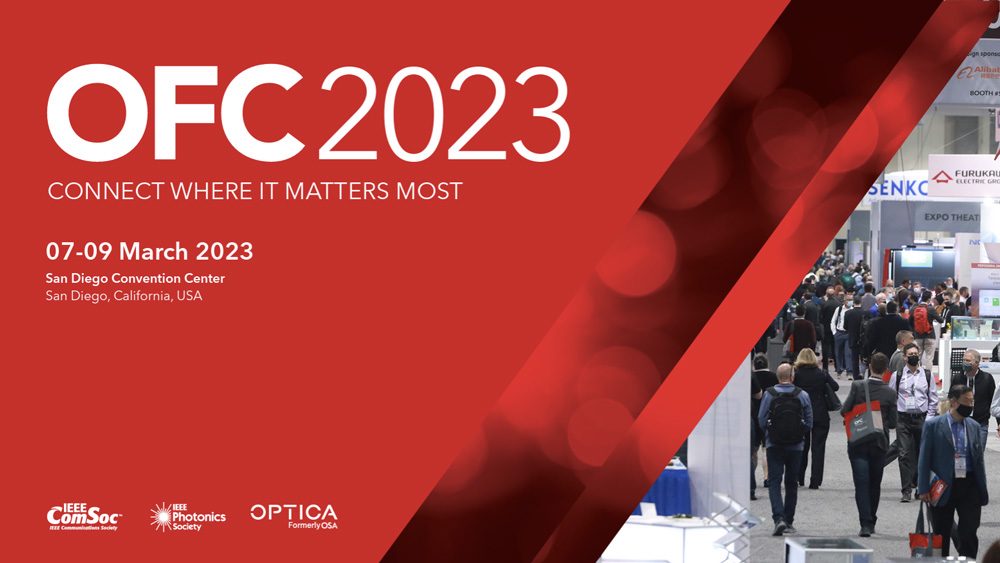 Optical Fiber Conference (OFC)
March 5 – 9, San Diego
OFC is the largest global conference and exhibition for optical communications and networking professionals. The program is comprehensive - from research to marketplace, from components to systems and networks and from technical sessions to the exhibition. OFC draws attendees from all corners of the globe to meet and greet, teach and learn, make connections and move the industry forward.
Look for a panel discussion: Optics in future AI systems: interconnects, switching and processing
---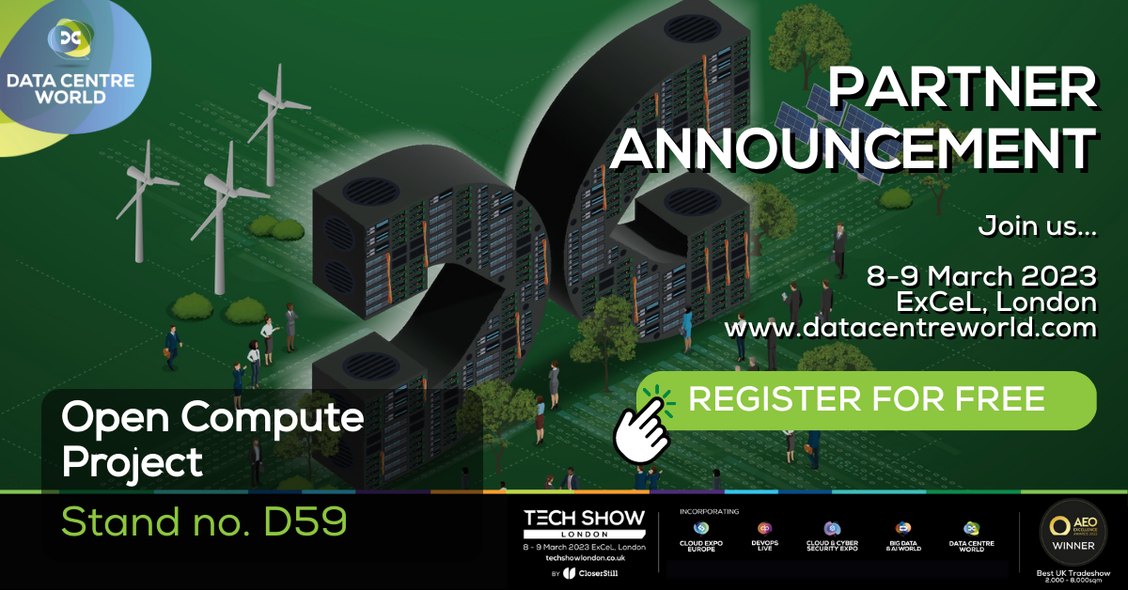 Data Center World
March 8 – 9, London
Data Center World 2023 is just around the corner! Have you got your free ticket? As a proud partner of this award-winning event, we can't wait to see our followers there for two days of insightful #techtalks, valuable #networking, and incredible #innovations!
More information to come, contact the OCP events team if you are interested in participating
---
2023 OCP Regional Summit
April 19-20, 2023: Prague, Czech Republic
Click here for more information.
The call for papers is now open and the deadline for submissions is January 27, 2023. Click here to view the criteria and to access the submission form: Click here for more information.
Sponsorship opportunities are still available, to see the prospectus and contract form visit: Click here for more information.
---
Big 5G Event
May 15 – 17, Austin, TX
More information to come, contact the OCP events team if you are interested in participating
---
OCP APAC Regional Event, hosted by Samsung
August, TBD
More information to come, contact the OCP events team if you are interested in participating as a speaker or sponsor
---
OCP China Day, hosted by Inspur
August, TBD
More information to come, contact the OCP events team if you are interested in participating as a speaker or sponsor
---

2023 OCP Global Summit
October 17-19, 2023: San Jose, CA
---
2024 OCP Global Summit
October 15-17, 2024: San Jose, CA
---
OCP Events Calendar