The 2023 OCP Global Summit Hackathon was amazing! As a quick recap, three of us, Linux Foundation Edge (LF Edge), European Telecommunications Standards Institute (ETSI), and Open Compute Project Foundation (OCP) collaborated and chose to issue a challenge in the problem area of AI Hardware Software Co-design.
You can see a full rundown of the Hackathon challenge here.
Each team had a booth on the OCP Global Summit Expo Hall floor, and they did a fantastic job demonstrating their solutions as well as presenting their results to many that came to check it out.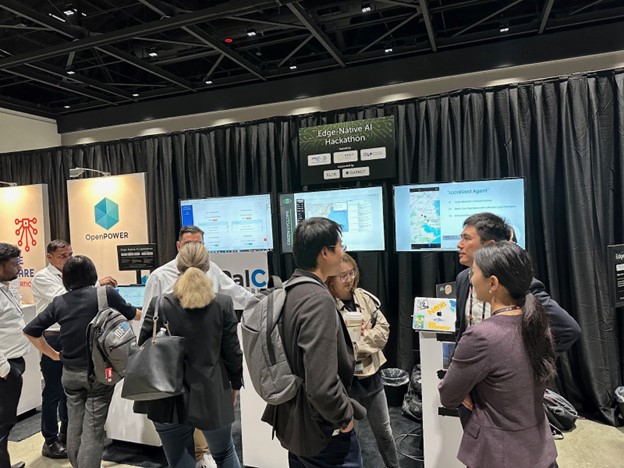 On Wednesday October 18th, we held the final pitch off on the Expo Hall stage and the three remaining teams, Team PalC, Team Green Cyclops and Team Sheikh Tower (The AI Tower), each pitched their solutions to the judges and audience.
Team 3, PalC pitched a very interesting case for training an AI model on historical usage data and specific telemetry from a number of devices. Their demonstration showed a use case with geo relevant predictive analytics on hard drives and other devices, predicting impending failures. There was a good UI to help manage the system.
Team 2, Green Cyclops pitched a compelling case for training AI models on log data from Internet of Things (IoT) devices (closed loop) to assist human operators (open loop) make informed decisions with relevant information like video, logs etc. Their demonstration showed a use case of mobile enabled IoT devices like security devices, surveillance cameras and drones. These endpoints created data streams like log data, video, and so on. So, when there was an event (ex: Gate open and cows roaming around town) operator could intelligently select the event and a drone would automatically file a flight plan and be programmed to orbit the area. There was a comprehensive UI to manage everything.
Team 1: Sheikh Tower (An AI Tower) pitched their case for training an AI LLM to provide geographically and contextual relevant information on demand. This very interesting demonstration included use cases like automatic translation in near real time, contextually relevant information like who was visiting their booth with interesting background information and so on. Finally, there was a great UI to control and manage the application.
Our onsite judges, Jane Chen, Rick Caos, Hosein Nikopour, Tina Tsou and myself worked diligently to score these contestants. The choices were not easy at all. Each had developed unique solutions and met the requirements of the Hackathon challenge.
The final results were:
Team Green Cyclops
Team Sheikh Tower
Team PalC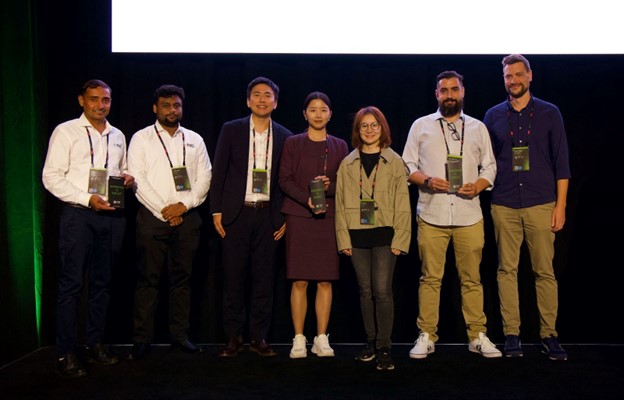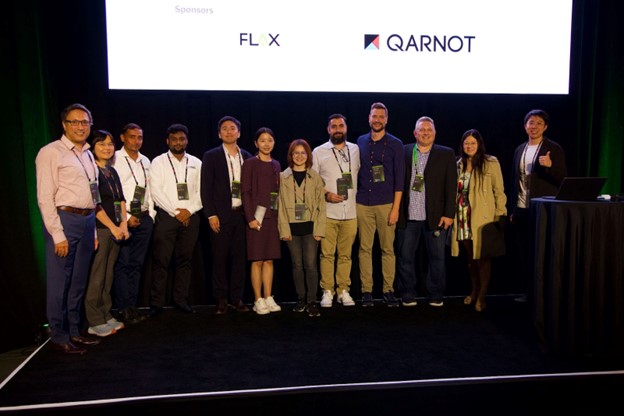 The three teams and the onsite judges.
Again, the results were amazing. The judges, the contestants, the wonderful organizations all came together and am so very proud of everyone that made this happen. One big shout out goes to Bob Gazda who helped everyone and everything out and moved mountains to make things smooth.
It never ceases to amaze me the amount of innovation and creativity people can bear on problems of all sizes. We can't wait for the next opportunity to create more difficult challenges and witness the power of open collaboration.