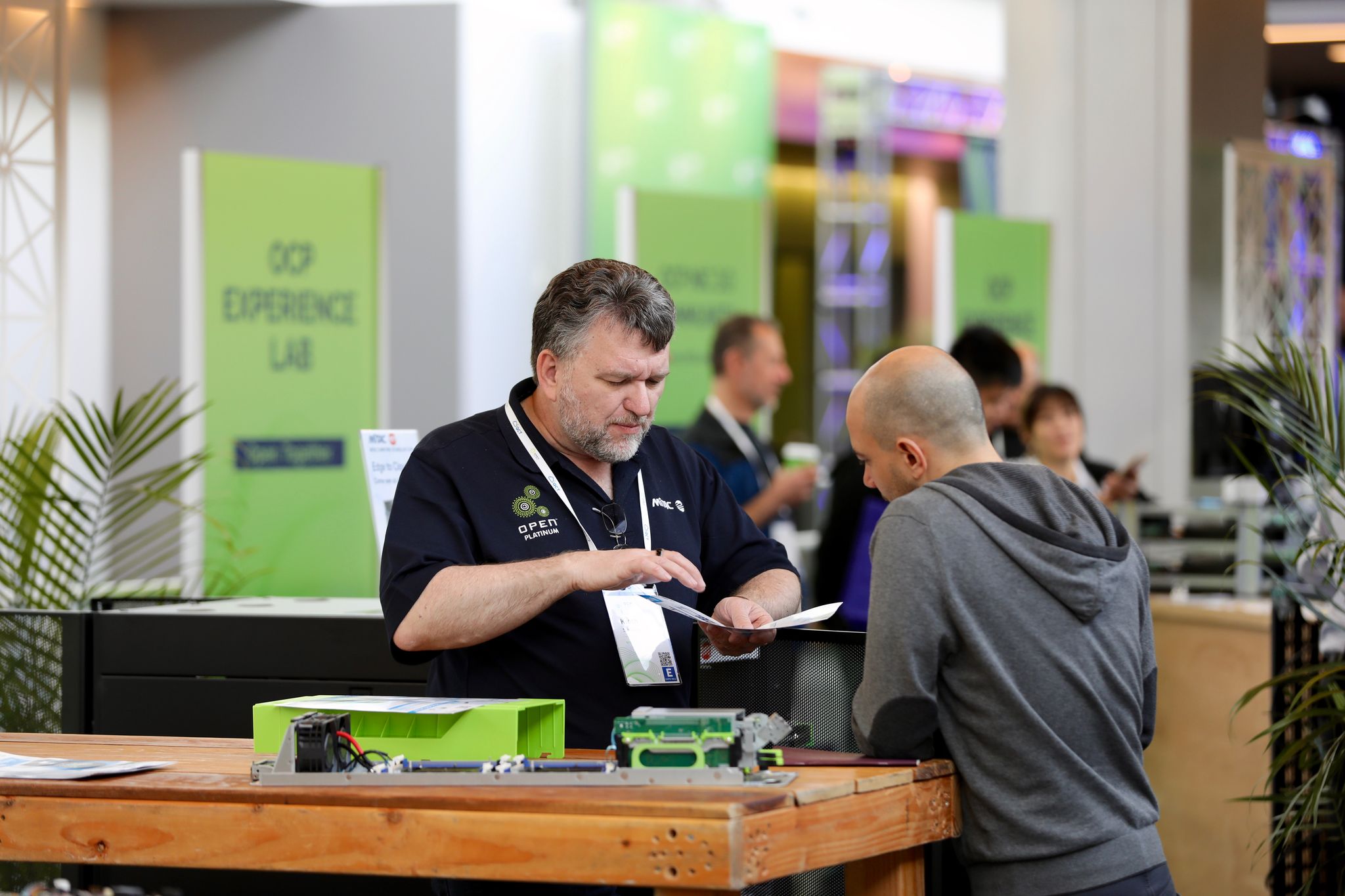 The Open Compute Project Foundation established the OCP Experience Center to provide new ways for OCP members to showcase best-in-class product demos, solution stacks, software and hardware, both live and static. The initiative was launched at the OCP Global and Regional (European) Summits in 2019, and they were among the most popular attractions. Not only do the Members get a chance to showcase their OCP-recognized product offerings, they also get a chance to receive feedback from Summit attendees. The OCP Experience Center offers Summit attendees a chance to look at all the products, their piece-parts, and see different software workloads and end-to-end solutions that have been built primarily for the platforms being demonstrated.
The demand to showcase solutions in the OCP Experience Center 2021, running on OCP hardware, has increased significantly. Only nine demos qualified for the Experience Center, partially due to space limitations.
The 2021 OCP Experience Center will be hybrid in nature. Virtually, for those who are not able to be physically present at the Summit, attendees can select the demo they would like to see and view their respective presentations. Visitors can calso live chat with the presenters to ask questions and request more technical information.
There will also be lightning talks where every presenter representing a group or demo will speak for 10 minutes in an iterative fashion.
This year's Experience Center will include the following technology and products:
Open Systems Firmware (OSF)

- They will demonstrate a total solution packaged with Linuxboot, Coreboot, OpenBMC along with BIOS on OCP hardware. Companies involved are: Facebook, Intel, AMI and ITRenew. OSF will showcase the following demos:

Wiwynn DeltaLake with coreboot + LinuxBoot +OpenBMC

Monolake (Existing older platform) with coreboot + LinuxBoot +OpenBMC

Upxtreme board for the MinPlatform

TiogaPass with Aptio Open Edition.

ARM LBBR or SBBR (Server based boot requirements)

Supermicro Ice Lake with MinPlatform

Hardware Management: The team will showcase total management capabilities including firmware updates, profile capabilities, building MegaRAC and test. Participating companies are Intel, AMI, Edgecore and Lattice semiconductor. The team is expected to showcase the demo in the following manner:
Describe: Showcase management capabilities. Show OpenRMC 1.1 firmware updates, group operations etc.

OCP Prescribed: Showcase baseline/server profiles. Focus on Reset, Inventory, LocationLED

Implement: Experience building OpenBMC (?), MegaRAC (AMI), OpenRMC (Inspur/Wiwynn)

Experience Device Manager (Edge-core)

Experience the HW Mgmt Modules (RunBMC, SCM 1.0, SCM 2.0) (Intel)

Conform: Experience running the tests specified in supplier checklist.

Tests based on Redfish service validator, interface validator, interop-validator
Time Appliance Project (TAP): This group will showcase Machine synchronization by data packets will be shown along with performance of time protocols with the OCP time card. They will follow the sequence below:
Live Demo: "Synchronizing machines by data packets"

Performance of NTP vs PTP w or w/o time card.

Time Synchronized Database throughput.

Using Time Card, Atomic Clock, GPS

Static Demo: Announcing the Open Time Server Ref-Arch

Time Card, NIC,

How to get started
Networking: The group will showcase DDC orchestration with a live and a static demo. The will the demo order as stated below:
Live Demo : "DDC Orchestration"

Remotely Controlling a large DDC Cluster install in Israel

Static Demo : 350Tb Jericho2C+ Cluster w/MACSEC

Hyperscale sized routing platform
Telco: Telco group will demo peering router demo showcasing a small VDR cluster peering with two BGP peers. They will perform the following:
Virtualized Distributed Router (VDR) Small Cluster leveraging UfiSpace hardware platforms based on Broadcom J2/Ramon

Live Demo: Showcase Arrcus peering fabric; an interconnect to various service providers, CDNs
Server: The team goal is to show demonstrations covering physical, logical and functional aspects of OCP NIC 3.0 specification. Overall, they have planned seven demonstrations. They have two demonstrations showing an interface sandbox with a Small Form Factor (SFF) as well as a Tall SFF NIC product respectively. They will also be showing a mechanical fit-test fixture that can be used to check a physical card's compliance with OCP NIC 3.0 specification. There will be a demonstration of connectivity and manageability features of OCP NIC 3.0 specification on a Multi-Host NIC with hosts running timing and TCP applications. The team also plans to showcase Fiber channel HBA in OCP NIC 3.0 form factor and a server with 12 OCP NIC 3.0 compliant slots. Finally, the server team will be tying both OCP NIC 3.0 and device attestation specifications by showing the attestation of OCP NIC 3.0 compliant Ethernet NIC using Secure Protocol Data Model (SPDM), one of the attestation protocols recommended by the OCP security project.

OAI: The team will showcase OAI capabilities on different hardware platforms. There sequence of the demos is as follows:
Showcase Wiwynn OAI server (based on already available OAI OAM/UBB spec) with immersion cooling solution live demonstration

Showcase Inspur OAI server (based on OAI OAM/UBB spec, work in progress)

Liquid cooling (based on OAI OAM, Zion platform, work in progress)

High speed connector (based on OAI UBB spec, work in progress)

Intel PVC OAM (based on OAI OAM spec, to be confirmed)
Test and Validation: The T&V initiative team will showcase Yosemite v3 server there along with our individual test executives to demonstrate the execution of a common test framework.

Storage: The team will showcase E1.S 15mm - Acoustic Surrogate and NVMe HDD. They will demonstrate the following:
Highlight systems that are using E1.S. There are around 7 SSD vendors.

Supermicro will showcase their server (with NIC 3.0) which supports E1.S 15mm

Acoustic Surrogate concept - Based on the OCP accepted spec. Users will come to know how it is built and used.

NVMe HDD- A Drafted version of the spec is in the works
We look forward to seeing you at the OCP Global Summit in November!