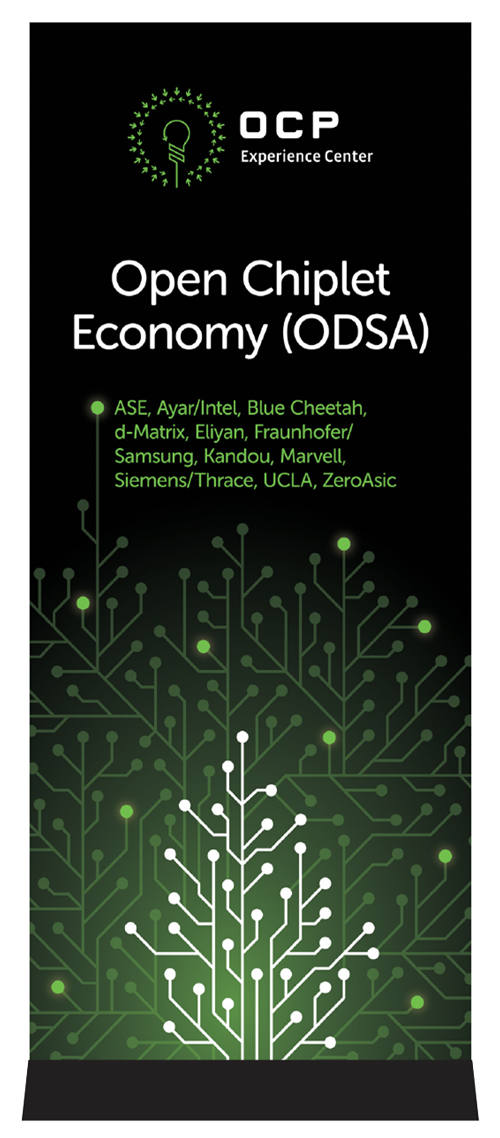 Four years ago, the OCP's Open Domain Specific Architecture (ODSA) sub-project embarked on a journey with a clear mission: to constantly diminish the hurdles to the development of chiplet-based products. From its inception, the ODSA's focus was the integration of the value chain necessary for the design and manufacture of chiplet-based products. This comprehensive approach was formally launched as the "open chiplet economy" vision in January, 2023. A vision not narrowly scoped to the one aspect of chiplets most commonly addressed by standards - die-to-die interfaces. A vision that aims to support every stage of the value chain necessary for the success of chiplet-based products - design processes, the complexities of manufacturing, and even the interplay of business workflows and interfaces.
The 2023 OCP Global Summit represents a significant milestone for the open chiplet economy. The start of a transition from documents and slides and into the realm of tangible, and real products. For the first time, a diverse collection of products and prototypes from different corners of this emerging market that embody the open chiplet economy vision are on display together; products based on specifications developed collaboratively by the OCP ODSA project Community and other organizations in the industry.
The technology demonstrations on display in the Open Chiplet Economy Experience Center at OCP Global Summit paint an exciting picture of the growth of the chiplet economy and should motivate you to spend quality time there. As is to be expected, there are chiplets on display. Equally important, there are several IP, workflow and manufacturing demonstrations that help designers integrate the chiplet-based product value chain, representing a remarkable step in realizing the open chiplet economy vision.
We're happy to say that for some of the exhibits, the Experience Center is going to be a coming out party:
For design workflow products

A chiplet emulation platform from ZeroAsic.
A Siemens/Thrace prototype that uses the newly ratified global standard from JEDEC, based upon OCP ODSA CDXML schema, to describe a device composed of multiple RISC-V chiplets connected through BoW interfaces.

For IP products that support the OCP BoW specification

Eliyan will showcase the industry's first BoW 2.0 PHY demonstration.
Fraunhofer/Samsung/Cadence will showcase the BoW PHY implementation in Samsung 5nm technology, a design workflow and platform for interop test.

For chiplets

Kandou is unveiling the Regli product portfolio, the first chiplet-based PCIe/CXL Gen 5 SoC in the market.
Beyond the first-of exhibits listed above, the Experience Center will showcase chiplets with key functions needed to make SoC disaggregation a reality, especially for AI systems that need both high compute-density and communication bandwidth.
Blue Cheetah will demonstrate the industry's most power and area-efficient interconnect IP being used in many chiplet-based ecosystems developing today.
d-Matrix will demonstrate how the OCP's BoW interface makes possible scale-up and scale-out of the digital in-memory compute cores for an AI chiplet.
Intel and Ayar Labs showcase heterogeneous photonic/electronic integration of in-package optical I/O chiplets with an Intel FPGA.
Marvell will demo a 2nd generation long-reach ethernet-capable SERDES chiplet.
Researchers from UCLA will demonstrate scale-down and scale-out packaging for chiplets, focusing on sub-10µm pitch signaling for AI applications.
The final station is one on the "glue" that underpins the chiplet economy. ASE, the sponsor for the Experience Center, will demonstrate packaging manufacturability workflow for chiplet heterogeneous integration with a few sample packages.
Going forward, we can expect the market for open chiplet products and prototypes to develop at a much faster pace. We aspire to build upon this foundation at forthcoming OCP Global and Regional Summits, fostering continued growth and collaboration within the industry. Semi-annual demonstrations will not adequately meet community needs. We are planning to transition this exhibit into a permanent OCP Experience Center at the Lawrence Berkeley Lab. This will allow this emerging industry to showcase chiplet products realizing the open chiplet economy vision more frequently and in greater depth, enabling a deeper exploration of the technology's potential and applications.
But first, dear reader, please start with a visit to this year's OCP Global Summit Experience Center to give the exhibitors the opportunity to demo their product to you and share insights and innovations that further drive the open chiplet economy vision, its advancement and adoption.