The OCP Experience Center will be live at the OCP Virtual Summit starting May 12, 2020. The OCP team and our providers have been working tremendously hard to make sure that this experience closely matches a real demo experience. The Virtual Experience Center will be on-demand and therefore accessible anytime.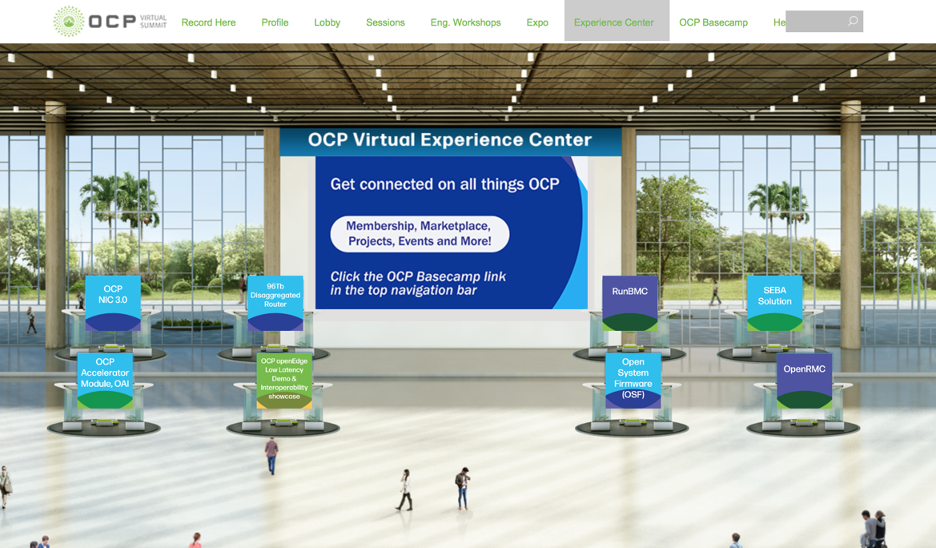 The Edge project is growing by leaps and bounds within the OCP Community, with use cases related to telcos, travel, transportation and logistics, global energy and materials, public sector and utilities, and more. The OAI project has made tremendous progress in supporting multiple OAMs. You will be able to view and learn many implementations in multiple OAI systems. We are also excited to announce that we will have a RunBMC demo of hardware modules based on the OCP RunBMC specification. We have seen a great interest in supporting RunBMC from across the globe. Our OSF team is cruisiung fast enough and have come up with a first version of OCP OSF checklist v1.0. Same with the openRMC team. Our RMC team has finalized the OpenRMC Northbound 1.0 specification, with a demo featured during the Virtual Summit. Another important demo is based on the SEBA (SDN-Enabled Broadband Access) solution curated by ONF. SEBA is a lightweight platform based on a variant of R-CORD, running on OCP platforms. OCP NIC 3.0 has so much to offer and the partner list is growing. Lastly, many companies have collaborated on a unique disaggregated router based on an AT&T proposal to OCP earlier this year.
Below you will find a detailed description of the projects running in the Virtual Experience Center. Please note that chat and email functionality is available within the Virtual Experience Center for questions and comments.
OCP Accelerator Module, OAI (Facebook, Hyve Solutions, Inspur, Xilinx)
OAI will demonstrate currently available OAMs as well as show functional implementations in multiple OAI systems.
openEDGE (Artesyn Embedded Power, ASUS, BelPower Solutions & Protection, Flex, Inventus Power, MiTAC and Nokia)
The OCP openEdge project creates open specifications, standards and reference designs for Edge Computing and Telco use cases that require small form factor server designs to enable high performance and low latency computing. Participants of the Project come from across the ecosystem, including Telco Service Providers, OCP solution providers, ODM/OEM manufacturers and key technology providers. Nokia has contributed the initial openEdge solution that creates the basis for interoperable designs.
RunBMC (Dropbox, Intel, Vertiv)
This is a demo of hardware modules following OCP RunBMC specification. The first video delivered by authors of the specification from Dropbox features the demo of HS2500 Prototype Module and HS2500 Production Module. This video also presents the stand-alone RunBMC Bring Up Vehicle and RunBMC-compatible Olympus chassis with Nuvoton Poleg RunBMC Module. The second video, delivered by Intel, presents FPGA-based RunBMC modules featuring Intel® Cyclone V and Intel® MAX10. The video demonstrates the integration of this module in standard Intel 2S Skylake-X platform by using RunBMC Bring Up Vehicle card from Dropbox. In this video you can also see OpenBMC boot on Intel RunBMC module and basic management of the platform with WebUI, SOL and Remote KVM.
Open System Firmware (OSF) (Facebook, Wiwynn, HP Enterprise, Intel and ITRenew).
Open System Firmware is an open development project, whose goal is to move the point of control of firmware to the system owner. Starting in March, 2021, OCP badging for servers will require that systems support OSF. We are exploring multiple ways to accomplish this with components, including Hostboot, UEFI, coreboot and LinuxBoot.
OpenRMC (Inspur)
This Demo will show the establishment of OpenRMC Northbound 1.0 profile execution on top of the bundle of OpenRMC FW & HW (RMC). This solution was contributed to OCP as a complete reference solution, intended to address the fulfilment of user's requirements/demand for a comprehensive management of an entire rack system and beyond, via RESTful API through remote management portal/client console with detailed WebUI , thus paving the way for exploring future OpenRMC v2.0.
SEBA Solution (MITAC and EdgeCore)
SEBA solution is one of ONF projects and, with Edgecore and MiTAC, you can have the OCP hardware ready for SEBA.
OCP NIC 3.0 (Amphenol, Broadcom, Dell Technologies, Facebook, Intel, Marvell Semiconductor, NVIDIA Networking - Mellanox, Quanta, TE Connectivity, UNH-IOL, and Wiwynn Corporation)
The demo will focus on workability/Interoperability of NIC 3.0 feature sets on different HW platforms.
96Tb DDC based Disaggregated Router ( Credo, DriveNets, Edgecore Networks, Keysight Technologies, UfiSpace )
The Open Compute Project (OCP) has selected UfiSpace, Credo and DriveNets to give the first ever live demonstration of a Distributed, Disaggregated Chassis (DDC) model as proposed to the OCP by AT&T. This demonstration is the largest live demonstration of a distributed router cluster ever given in public. The technology is aligned with the vision of TIP (Telecom Infra Project) who also invited DriveNets and UfiSpace to advise on their Disaggregated Open Router Initiative, and ensure its alignment with the OCP's efforts around network disaggregation.
We look forward to hosting you!