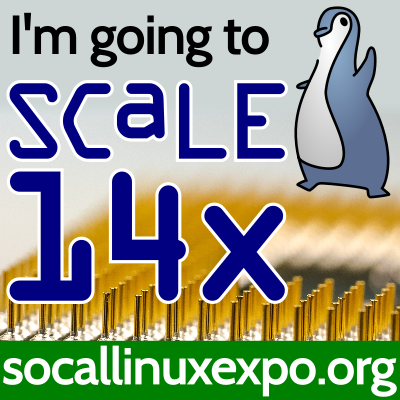 This weekend at the Pasadena Convention Center in Pasadena, California the community and those attending the Southern California Linux Expo (SCaLE) will have the opportunity to learn more about not only about the OCP Foundation, but some of the OCP hardware that has been contributed by Facebook.  
In addition to OCP hardware being in the Facebook booth (500/601), Amber Graner, Operations Director and Community Manager for the OCP Foundation will be there as well. The exhibit hall opens on Friday 22 January at 2pm. The full SCaLE 14x schedule can be found here.
If you're in the Los Angeles, California area or if you are already attending the SCALE 14x event, please stop by the Facebook booth to learn more about the OCP Foundation, how to participate, how to contribute, our upcoming summit as well as the hardware listed below.
If you are interested in the above OCP Hardware, wait until you see all the hardware that will be at the OCP US Summit 2016.  The OCP Summit will be held on 9-10  March 2016 at the San Jose Convention Center in San Jose California.  Be sure and take a look at the OCP US Summit 2016 site and stop by the Facebook Booth at SCaLE 14x and ask Amber about this event.
Other OCP members exhibiting at SCaLE 14x include: Canonical, Hewlett Packard Enterprise, and Microsoft.
Stop by the Facebook booth at SCaLE 14x and let's talk OCP!
About the Open Compute Project Foundation
The Open Compute Project Foundation is a 501(c)6 organization which was founded in 2011 by Facebook, Intel, Rackspace, Goldman Sachs and Andy Bechtolsheim. Our mission is to apply the benefits of open source to hardware and rapidly increase the pace of innovation in, near and around the data center and beyond. http://www.opencompute.org/
About SCaLE 14x
SCaLE 14X – the 14th annual Southern California Linux Expo – takes place on Jan. 21-24, 2016, at the Pasadena Convention Center. As the first-of-the-year Linux/Open Source software expo in North America, SCaLE 14X expects to host 150 exhibitors this year, along with nearly 130 sessions, tutorials and special events. SCaLE is the largest community-run open-source and free software conference in North America. It is held annually in Los Angeles. https://www.socallinuxexpo.org/scale/14x