OCP's Vice President of Emerging Markets Steve Helvie had a chance to interview Rittal to diuscuss ORv3!
| | |
| --- | --- |
| | |
| Thomas Schreiner is Global Business Development Manager at Rittal | Steven Moore is Global IT OEM Account Manager for Rittal |
Rittal has been a member of the OCP Community for six years now. What made Rittal join the Community?
Thomas Schreiner: Data centers are under increasing pressure for performance and cost-effectiveness. Thus, operators need reliable infrastructure with easy handling, high efficiency and high scalability. Open computing with 21'' racks and direct current are a remarkably innovative approach for this. Long before joining the OCP, Rittal pursued a strategy of standardization and modularization. We want to contribute and combine this expertise. Redefining the infrastructure and making it scalable is one of our strengths.
Can you elaborate on Rittal's role in the OCP Community?
Steven Moore: Rittal has been one of the OCP Community Project Leads for the Rack & Power Project for the past 3 years. As one of the design leaders of Open Rack version 2 (ORv2) and most recently the 3rd version of Open Rack (ORv3), we have gained experience that we want to share with the Community. We aim to incorporate community feedback in the Open Rack development and foster dialogue by frequent presentations and conversations at the OCP events.
You have been deeply involved in the design of the 3rd version of Open Compute racks. What are the new key benefits of the new version?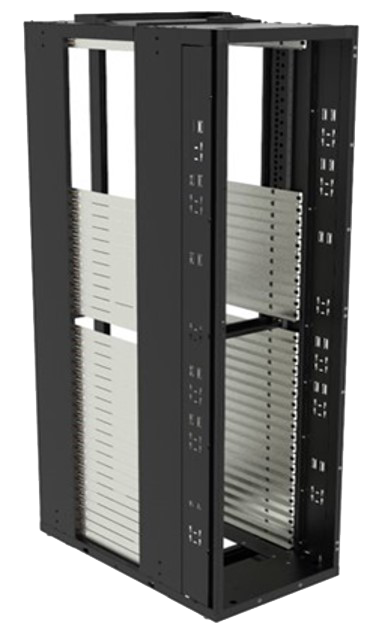 Thomas Schreiner: The aim was to make a rack which is fully capable of fulfilling the future requirements of upcoming IT generations. The new power requirements with 48V / 18KW will meet the demands of the next server generation in an efficient way. The flexible configuration of the power shelves is a leap forward. It allows the user to maximize the power load. The new manifold for DLC cooling enables very efficient and sustainable cooling for the server system. Standardized high mechanical quality by Rittal makes sure that the installed equipment will travel securely wherever it is shipped.
How does Rittal plan to contribute to this platform moving forward?
Thomas Schreiner: We are convinced that the ORV3 rack is the backbone of an ecosystem which has the potential to be adapted to a broad spectrum of applications. Rittal is now in the process of developing a range of accessories based on our long experience in the field and new customer requests. So far, it comprises doors, IT rail kits and power rails. More accessories are to come.
Do you have any specific users in mind who will use this ORv3 technology?
Thomas Schreiner: The ORv3 offers the perfect base platform for anybody who wants to scale. Thus, big and medium cloud providers or colocation providers have an especially high demand, but scalability is gaining relevance for more and more enterprise datacenter operators as well. Furthermore, it is a future-proof system for liquid cooled technology for high computing requirements.
What sort of testing was carried out on the new ORV3?
Steven Moore: The aim is to apply stringent test standards without sacrificing flexibility. That includes tests for ship loading, transportation, and deployment. Furthermore, bus bar-specific tests and procedures for electrical resistance testing of grounding points as well as shelf specific testing and thread torque tests have been carried out.
What is the biggest difference between ORV2 and ORV3?
Steven Moore: A whole series of changes have been made to make the rack fit for the future. These are the most important ones: Modular cable management, moveable mid-height beam, removable levelling feet, 48V bus bar, 44OU of equipment space (vs. 40OU of V2), power shelf positional flexibility, single power zone, tool-less equipment rails, R.U. gear support and cooling manifold support.
Is it possible to deploy both traditional and OCP hardware in ORV3, combining both 19" and 21" standards?
Steven Moore: That is correct, the ORV3 rack is compatible with traditional 19" hardware by using adaptors. Thus, you can deploy an ORV3 rack with both 19" and 21" hardware. Rittal offers two different concept designs for these 19" adaptors: a single RU space 19" shelf adaptor for full position flexibility and a 19" mounting bracket which provides mounting features for a specified section of the frame.
OCP racks have been perceived as hardware you need to purchase in large quantities. Will ORV3 be available (worldwide) in smaller quantities as well?
Thomas Schreiner: Most customers continue to use the racks in large quantities. However, we are receiving more and more requests for small quantities in order to test the racks first before using them on a large scale. Of course, we are happy to meet such requests. Therefore, we are already offering single quantities of the ORV3 rack, often along with IT and Power rail kits. We are also planning to ship doors and related ORV3 accessories along with the racks.
What are your plans for the future as Rack & Power Project Lead?
Steven Moore: We are always eager to expand the field of useful applications. For example, looking into enterprise use cases for the ORV3 products. Rittal will also begin looking at contributing edge enclosures that align with the growing portfolio of edge servers being contributed to the OCP.
Where else is Rittal working in the OCP Community?
Thomas Schreiner: Rittal is an active participant in the OCP Cooling Environments Project, for example. We contributed by developing the Rear Hex cooling system for the ORV2. We are planning to develop similar applications for the ORV3 as well. Cooling, and in particular IT liquid cooling, will become one of the major requirements in the near future. This will not only be driven by new generations of CPU. Liquid cooling is a prerequisite for efficient waste heat recovery and therefore an important technology for sustainable IT infrastructure.
Rittal is a sponsor of the upcoming OCP Regional Summit in Prague, April 19th-20th where they will be showcasing the latest version of Open Rack.