The Nomination Period for the OCP Incubation Committee (IC) has ended. Below are the nominees. If only one candidate is listed, that candidate will run unopposed.
If you would like to find out more about each nominee, please click on their names to be taken to their respective pages.
Reminder: only Silver, Gold & Platinum members are allowed to vote in Incubation Committee elections. The listed point of contact for each member organization will receive their unique voting key and will have until August 9th, 2019 to cast their votes.
Data Center Facility
Brevan Reyher, Rackspace
Brevan Reyher is the Design and Build Engineer for Rackspace Global DC Infrastructure. In his role, he leads Data Center Engineering for Rackspace's Global Data Center Operations and Engineering group. As an alumni of Trinity University in San Antonio, he has spent over 12 years in the design, construction, operations and maintenance of data center facilities, comprising all supporting infrastructure upstream of the ICT devices. He has previously served as the Project Lead of the OCP Data Center Facility Project, delivering the OCP Ready Facility Recognition Program and the Modular Data Center specification. In his free time, Brevan in a minimalist enthusiast focused on conservation and development of sustainable systems to support our growing and ever-changing world. He is a strong believer that the future is OPEN!
Hardware Management
Raghavan Venugopal, Wiwynn
Raghavan Venugopal has greater than 20 years of experience in the computer server industry as an engineer, architect, manager, executive, change agent, and an innovator. He is currently serving as the Executive Director of Customer Engineering and Strategy at Wiwynn for the last 18 months. In his current role, he is in charge of understanding and capturing customer requirements, priorities, and aligning them with the right organizational support within Wiwynn. He has since joining has set up operations to provide enhanced support and has established a local office, lab, and team at Redmond, Washington for Wiwynn. Prior to this role, he was with HPE for 18 years in various leadership roles. He was Director of Engineering and Product Development Strategy for the Cloudline portfolio of products across Haswell, Broadwell, and Skylake Intel processor transitions. Before that he led the Direct attached storage productroadmap definition and delivery for 3 generations of products that spanned across 6G and 12G SAS controllers. In this role he pioneered the introduction of industry's first NVDIMM- Non-volatile memory, consolidated system wide battery power, NVME, 12G SAS, and Controller Encryption technologies to the HPE Proliant Server portfolio. Prior to his leadership role in Direct attached storage arena, Raghavan ledthe introduction of the Scale Out line for the service provider segment, SL6000 and SL6500 series of the first Scale out server line portfolio. He began his professional career as a Software analyst in India. Raghavan holds a Master's Degree in Electrical Engineering from Tennessee Tech. University and an Executive MBA from Jones School of Business, Rice University. Raghavan holds 8 patents, 27 to be filed, 45 disclosures, and 2 publications. Raghavan firmly believes that open hardware management is key to enabling vendor independent hardware.
John Leung, Intel
John has over 35 years in the computer industry: architecting, designing and coding. Prior to joining Intel in 1995, John spent 10 years at two successful startups: Sun Microsystems and Auspex Systems, developing firmware and diagnostics for workstations and servers. John graduated from the California Institute of Technology, while also working at NASA's Jet Propulsion Laboratory. At JPL, John was a researcher analyzing telemetry obtained from the Pioneer 12 Venus Orbiter, and his findings published in two research journals. John attends the OCP Hardware Mgmt and Telco working groups. John authored the "OCP Hardware Management using Redfish" which is currently released as DMTF work-in-progress. At Intel, John started a validation manager on the first teraflop supercomputer. Since then, he has worked on various server and datacenter manageability programs and groups. John was a technology architect for Intel's out-of-band management controller (Node Manager). Currently, John is a Principal Engineer and a system manageability architect for Rack Scale Design.
Networking
Lihua Yuan, Microsoft
Lihua Yuan is a Partner Software Engineering Manager in Microsoft Azure Networking team. He leads the network management team that manages the entire lifecycle of network devices in Microsoft data centers through automation. He has led a transformation in how Microsoft manages the network - from human- and spreadsheet- driven workflows to automated "lights out" services driven continuously by desired state. He has led multiple research projects advancing the state of art of network management, monitoring and diagnostics, with multiple publications at top research venues like SIGCOMM, NSDI and SOSP, and direct impact on how Microsoft operates the network.
Lihua has been working closely with the OCP community since 2014. He has spearheaded the standardization of Switch Abstraction Interface (SAI) at OCP, with the support of every major switch ASIC vendors and industrial partners. He leads the open source initiative of SONiC, a Debian-based modular and containerized network operating system that supports many ASIC and hardware platforms. SONiC has attracted a large developer community and been deployed at scale at multiple companies in production at scale. He is committed to work with the OCP community towards an open and disaggregated ecosystem.
Barak Gafni, Mellanox
Barak Gafni is a Staff Architect at Mellanox Technologies, focusing on enabling the most scalable, agile and simple networks of tomorrow. He joined Mellanox at 2009, and has 12 years of experience in the networking industry. Barak holds a B.Sc. in EE from the University of Tel Aviv (Cum Laude), has co-authored multiple IETF drafts and holds several patents in the space of networking.
Rack & Power
Paul Artman, Lenovo
Paul Artman is a Hardware Architect in the Lenovo Data Center Group with a background in Thermal and Power Design. He was a founding member or ASHRAE TC 9.9 and a primary contributor to the ASHRAE ITE Thermal Controls White Paper. Paul was also the Chair of Industry Standard Fan Spec for Performance Parameters for Air Moving Devices (IPC-9591). Paul has been involved in OCP for several years with early thermal and mechanical design input into the OCP Mezz 3.0 Specification. Paul presently participates the OCP Advanced Cooling Solutions and OCP Accelerator Infrastructure subgroups. Paul represents the Lenovo Data Center Group Architecture Review Board for Power, Thermal, and Mechanical. Prior to his current position at Lenovo, Paul was the architect for the SD530 and the Lenovo high volume Intel Grantley programs. Previous to working at Lenovo he managed the Dell Enterprise Thermal and Acoustic Team. Paul brings 20 years of experience in thermal, power, and hardware packaging with the three major server ODMs (HPE, Dell, and Lenovo) and is presently leading Exascale and AI platform designs for Lenovo. Paul Artman is based in Morrisville, NC.
Steve Mills, Facebook
Steve Mills is a Mechanical Engineer who has dedicated over 25 years to the development of IT hardware in the enterprise and hyperscale space. He joined Facebook 7 years ago and is currently a Technical Lead for Open Rack. Prior to Facebook, he worked at a start-up company and DELL Computer. While at Dell, developing custom solutions for large clients, he was first introduced to Open Compute in 2011. Since then, he has been a champion of OCP as a Lead in Open Compute's Rack and Power Project for the last 5 years. He has 47 patents and is an author of 7 contributions to OCP.
Server
Bob Ogrey, AMD
Bob Ogrey has over 30 years of experience in the area of design and architecture in both consumer and enterprise products and platforms. Current focus at AMD is working with multiple OEM/ODM system design architectures, as well as definitions of MDC end customer EPYC systems architectures . The Server group is benefitting from the leadership of Bob who is helping with the multiple aspects of the community.
Jia Ning, Facebook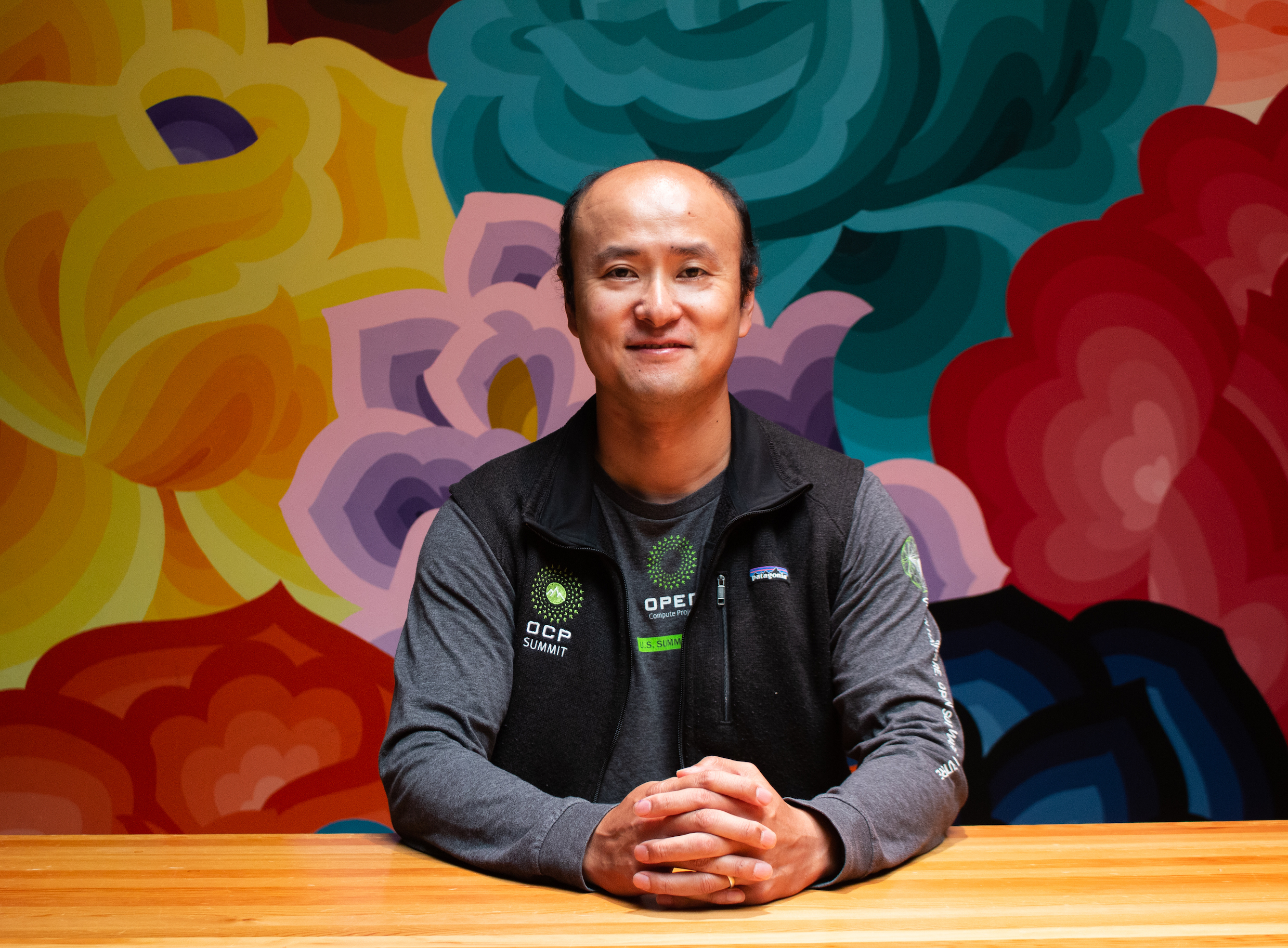 Jia Ning has been an active member of OCP since 2012. Jia has 14 years of experience in server development and started his career at Supermicro. He joined Facebook in 2011 to work on OCP server products. At Facebook, Jia has developed number of CPU and GPU server systems and contributed 6 specifications to OCP through server work group. Presently, Jia leads OCP NIC subgroup that developed a widely adopted OCP NIC specifications with strong community collaboration. In his current role at Facebook, he leads a team of engineers responsible for CPU, GPU, and Hardware Accelerator server development. Jia is based in Menlo Park, CA and is looking forward to working with the OCP Community and Foundation team to drive collaboration, and innovation in server space.
Adrian Barrera, IBM
Adrian Barrera is Chief Engineer of OpenPOWER Systems Enablement at IBM. In this role he collaborates with partners to build next generation servers for hyperscale data center, enterprise, high performance computing, and artificial intelligence applications, working with OEM/ODMs and vendors from concept to production. Prior to joining the OpenPOWER team, Adrian was focused on POWER systems development, helping to deliver multiple server technologies to market. Adrian has been involved with OCP since 2015. Focused primarily on the development of Zaius and Barreleye G2, a collaborative effort between Google, Rackspace, and IBM, he led its release as an OpenPOWER reference design. Adrian is a staunch advocate of open source initiatives, contributing to the adoption of open firmware, software, and hardware.
Storage
Jayarama Shenoy, Hyve Solutions
Jayarama "Jay" Shenoy studied EE at the Indian Institute of Technology, Bombay (BTech, MTech) and at Purdue University (PhD) and has worked on server and storage hardware for the 20 years, of which the past 10 have been primarily been on hyperscale infrastructure. His PhD was in semiconductor devices and Jay has worked in engineering roles semiconductor companies (VLSI Technology, PMC-Sierra), system companies (Sun Microsystems, Hyve Solutions) as well as internet service companies (Twitter, eBay) to understand the engineering and business dynamics of hardware development and usage at all the stages of hardware product lifecycle. AT Sun Microsystems, Jay was the system hardware lead for the highest performing visualization system at the time in the XVR-4000 as well as an industry contributor to the Hypertransport 1.0 specification. At Twitter, he was the first hardware engineer with notable work on large scale adoption of SSD storage as well as in optimizing Hadoop hardware, and went on to lead the hardware engineering team. At eBay, he led the transition of eBay to adopting an ODM server. At Hyve Solutions, Jay is VP, Technology and is responsible for developing product roadmap and drives new technology initiatives.
Matt Shumway, Seagate
Twenty-two years in the data storage industry with Seagate focused on HDD product development and driving storage hardware and software ecosystem development.
Career: Twelve years of mechanical design for HDD, ranging from advanced motor technology development, HDD design and leading mechanical design teams for mission critical products.
Developed three mission critical HDD products over seven years as a product core team design lead, successfully leading cross functional design teams to provide the highest performance and highest reliability products in the storage industry. Development of these products required an understanding of all facets of storage device level subsystems and mandated interactions with customers to understand their system requirements. Led an effort to define the system level operating vibration ecosystem to optimize the environment to enable delivery of the lowest $/TB storage solution. Required coordinating HDD device development and CSB system developers to provide a sustainable ecosystem allowing HDD storage devices to grow capacity at sufficient rates to maintain the data industries long term growth goals while maintaining performance standards. Understanding the industries long term strategies around cooling of compute plus storage, the higher level architecture that optimizes for power consumption and $/TB costs required for a healthy and competitive industry. Developed the technical strategies to deliver device level firmware features that support the industry requirements through T13 and T10 standards and supporting feature arriving from industry organizations such as OCP. Increasingly device requirements must adapt to support the requirements of the larger storage architecture to support multiple ecosystems defined cloud and edge.
Leading an effort to deliver open source tools and methods to manage installed storage both in the cloud and at the edge, creating options that enable delivery of low cost, highly available and secure storage to the industry. Tools that facilitate device health management and power optimization provide the operators the capability to minimize opex and industry implementation of these tools allows device makers to deliver the lowest $/TB to minimize capex. Working with industry organizations such as ASHRAE and Open 19, pushing industry standards for environments and hardware architectures to optimize cooling and maintain environments promoting device reliability and capacity by minimizing vibration, reducing power consumption. Standardizing on hardware architecture and environmental conditions facilitates device and system developers lowers the both the capex and opex costs of deployed storage for the industry.
Telco
Craig White, Nokia
Professionally, I support the adoption of OCP specifications into the Telco environment. I have worked with the Nokia team to make several Telco/NEBS enhancements to OpenRack including -48V and HVDC inputs into the power shelves, EMI shielding options, and Zone 4 Earthquake certification. Most recently completing work on a Skylake motherboard with support for high packet throughput VNF's, and also having hot swappable high-speed storage options. I also assist several software teams to validate and develop enhancements to telco related open software stacks on integrated OCP hardware cabinets many based on Openstack and also the VNF's that run on these stacks. I also have several patents related to core backbone networking. OCP Community based, I have been involved in the OCP Telco Project since the formation meetings of the group. I was privileged to serve as a founding co-lead of the project and established many of the administrative aspects of the project. It has been an honor to serve the Telco project as a co-lead with Sumithra Bhojan. It is my belief that open communities are fundamental building blocks towards the future of technology. I have contributed to many IETF RFCs and co-authored several addressing software disaggregation of network link technologies.
Jeff Catlin, Edgecore
Jeff is the Vice President of Technology at Edgecore Networks. He is responsible for research and integration of technology into Edgecore's award winning Open Networking product portfolio. Jeff is an industry recognized technology leader with more than 25 years of in-depth experience in the telecommunication industry with an extensive skill set for networking product architecture and deployment. Prior to Edgecore Jeff was the Vice President of Engineering for Enablence Systems and led worldwide engineering teams to create successful product lines for access layer connectivity. In addition, Jeff served as General Manager of Switching and Routing at Enterasys/Cabletron Systems leading engineering and marketing groups to successfully bring high volume, high revenue products to market. Jeff continues to drive the Open Networking technology road map for Edgecore and in the process is transforming the networking landscape as a whole.