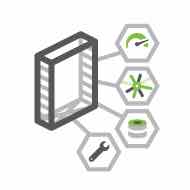 Gone are the days when data center solutions meant stacking mores boxes on the top of each other. Since data center growth is increasing exponentially, it has made it harder for exponential solutions to sustain the pace. In today's world, we not only need capacity but transparency, security and automation. We have unshackled ourselves from the outdated methods and have started to experience the efficiency, reliability and manageability that comes from integrated solutions.
An OCP integrated solution provides many more features and functionalities, with a mix of different technologies, some related to converged infrastructure management and monitoring, providing converged infrastructure solutions for the Enterprise.
These integrated solutions are quick to deploy compared to conventional data center builds, and are efficient to operate. They are specifically built for flexibility and they are easy to manage.
We currently have four different types of Integrated Solutions that are listed on the OCP Marketplace, with a strong pipeline of more solutions in the coming months. And the platforms that construct the integrated solution stacks feature OCP Accepted™ and OCP Inspired™ hardware.
These managed offerings also showcase a combination of many types of software solutions, including Openstack, Kubernetes, Docker and Ceph. And the upcoming solutions will be based on Hypervisor support and other open source, state-of-the-art software platforms related to compute, storage and networking.
There will be several different tracks available for integrated solutions and case studies during the upcoming OCP Global Summit at San Jose, CA, and are related to cloud solutions, management, automation, deployment and cooling.