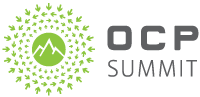 The 2018 OCP Regional Summit will be held on October 1-2, 2018 at the RAI Convention Center in AMSTERDAM, NETHERLANDS. Registration will open on May 17. Past OCP Summit attendees, including engineers to C-level executives, come from around the globe and represent the technology, telecom, enterprise, finance, government and consulting sectors.
Do you want to help shape the future of OCP and influence the next generation Data Center? If so, we have the following speaking opportunities available:
Keynote Sessions
The OCP Foundation will choose approximately three keynote sessions from the submissions. These time slots are ideal opportunities to announce your company's open source contributions in computing technologies and contributions to the open source community. Please be advised that OCP encourages these sessions to be informational, educational, and/or collaborative in nature; should benefit the community; and are based on OCP Tenets.
Keynotes should also promote your organization's participation in the OCP Community, highlight your contributions, and mention your impact on the OCP community. All presentations should show your membership level and demonstrate your connection/relevance to OCP.
Engineering Workshop Sessions
Each of the below OCP chartered projects may hold a workshop where new technologies are shared and community related ideas and concepts are discussed.
Criteria for Workshop Session Presentations:
- If your organization has already presented a concept or a specification to the project community and has been approved by the project leaders as being relevant to the broader open community, you may present such a concept or specification at the OCP Engineering workshop.
- If your product is based on an approved OCP specification and you are seeking product recognition, you may present your product details at the OCP Engineering workshop.
- if your organization is launching an architecture based on OCP products, testing software on OCP products, or developing a tool to support OCP product, you may present such findings at the OCP Engineering workshop.
- if your organization has adopted OCP solutions in your infrastructure, you may present such findings at the OCP Engineering workshop.
- if the current project community is discussing ongoing work streams and you have additional information in support of these work streams and the data is open for discussion, you may present such findings at the OCP Engineering workshop.
| | |
| --- | --- |
| OCP Project | Example Content |
| Data Center Facility | Best practices for efficient design and operations, including modular data centers |
| Hardware Management | Adoption of management standards (e.g. Redfish & OpenBMC), establishing OCP profiles for hardware |
| High Performance Computing | A new community to enable adoption of OCP technologies and products by the HPC segment and low latency computing. |
| Networking | Open sourced leaf and spine switchgear, disaggregation of the hardware and innovation with network processing. Includes open sourced software for switchgear (e.g. ONIE, SONiC, ONL) and collaboration opportunities with other network focused software projects (e.g. Linux Foundation sub-projects). |
| Open System Firmware | To create and deploy, at scale, an open source hardware platform initialization and OS load firmware optimized for web-scale cloud hardware, including documentation, testing, integration and any other artifacts that aid the development, deployment, operation or adoption of the open source project. |
| Rack & Power | All mechanical and power related topics and standards that effect OpenRack, CG-OpenRack-19, Project Olympus, 12VDC & 48VDC, and BBU features. |
| Security | Working with root of trust features, integration of Project Cerebus and Project Titan into one open solution. |
| Server | All server and compute node hardware for OpenRack, CG-OpenRack-19, Olympus, and mezzanine cards. This project also covers GPU and FPGA accelerator products & common interfaces. |
| Storage | Storage appliances, and includes new APIs for efficient cloud storage. |
| Telco | Open sourced carrier and cable provider products (e.g. disaggregated access, CPE, passive optical networking). Also covers collaboration work and opportunities with other organizations such as TIP, CORD, & ONL. |
To submit your talk for review, please complete our survey by clicking here.
The deadline to submit is Monday, May 28.
Executive Tracks (available to sponsors only)
Tell your OCP story! This is your opportunity to announce new OCP products, share your organization's OCP or related open source contributions in data center or cloud computing technologies, or talk about the work your company is doing at OCP or across related open source communities. All of these talks must be relevant to the OCP Community.
Executive Tracks are tied to sponsorships. If you are interested in these, please send inquiries to sponsor@opencompute.org.
Important Dates:
May 28 – Call for Participation Abstract Submission Deadline
June 7 – Initial Speakers Notified (based on abstract acceptance)
June 25 – Presentations Due (Your session will go live on OCP schedule once approved)
June 26 – July 20 – Feedback Loop
July 25 – Speakers Finalized, Schedule Updated
August 31 – Final Presentations Due
Please note: Acceptance of an abstract does not guarantee a speaking engagement of any sort. All presentations submitted must use the OCP slide templates and must be submitted by the deadlines as set forth by OCP. All presentation submissions will be reviewed and prioritized by the OCP Foundation, the OCP Project Leads and the OCP Incubation Committee. The OCP Foundation may accept or reject any presentation at its sole discretion at any time.
If you have any questions regarding the Call for Participation or the OCP Summit, please contact Kali Burdette, Meeting & Event Manager, at kali@opencompute.org.
About OCP
The Open Compute Project Foundation is a 501(c)(6) organization which was founded in 2011 by Facebook, Intel, and Rackspace. Our mission is to apply the benefits of open source to hardware and rapidly increase the pace of innovation in, near and around the data center and beyond.